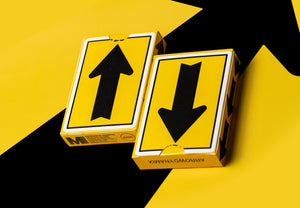 Momentum Playing Cards
ArrowDynamix v2
Sale price Price $15.00 Regular price Unit price / per
This second version of the
ArrowDynamix
series boasts a brand new black-and-yellow colorway, inspired by the ubiquitous street signs we see everywhere.
Adorned with vertical arrows on the backs and horizontal arrows on the faces, ArrowDynamix enables Cardists to maximize their displays, bestow flow and logic through the motion of their flourishes, and even come up with new moves based on following the direction of the arrows.
Of course, one can also freely perform their favorite moves with this deck without paying mind to patterns structure, allowing the resultant disarray to create a beautiful kind of chaos of its own.
In addition to 52 ArrowDynamix playing cards, each set of ArrowDynamix also comes with a Pointers Card, a double-sided Spin Card, a Stop/Go Card, and an Ad Card.
Printed by USPC on premium crushed stock.
Orders of 6 decks and up come with a free, custom half-brick box.
Maximum of 1 brick (12 decks) per customer.
See what other Cardists have done with the previous version of ArrowDynamix: